Baby photo time! 73 this time, covering most of November. I actually have more beyond this point, but I don't have time to sort through those just now, so they'll be in the next batch.




Walking around with Daddy at the Fertility Center's annual picnic: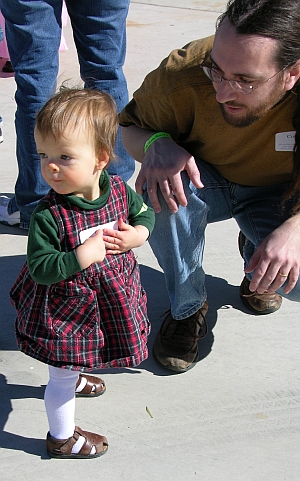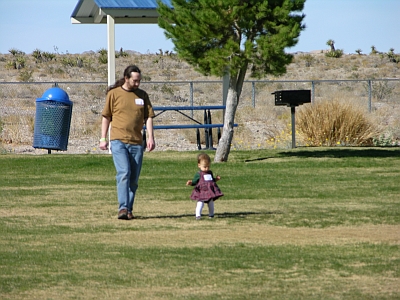 They had pumpkins out for colouring. Peo thought they were awesome in and of themselves, especially when she managed to grab two at a time:





She's a genius! She wrote her own name on the pumpkin! Okay, maybe with a bit of help from Mum: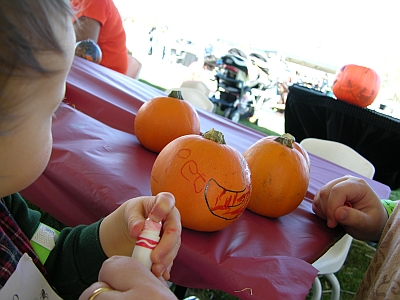 Then she found the attached playground and had fun there:





Corran gave her his very old Apple laptop to play with (not even turned on). She loved it, except when it would latch closed and she couldn't figure out how to open it again. She learned quickly to appeal to Corran to open it.





Another version of a previous ubiquitous baby photo: the devil horns in shampoo:




And a mohawk too!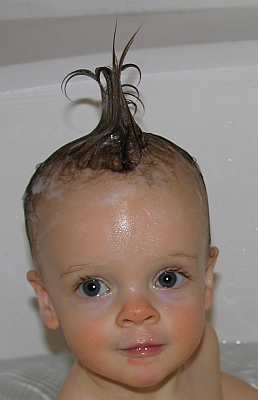 Peo is now very, very good at feeding herself slices of banana. So good, that sometimes she feeds her face faster than she can eat, resulting in the hamster-cheek look:





"OMG, Mum, nice clothing combination you put on me. Red with fuzzy pink, and boy-pants. Real nice."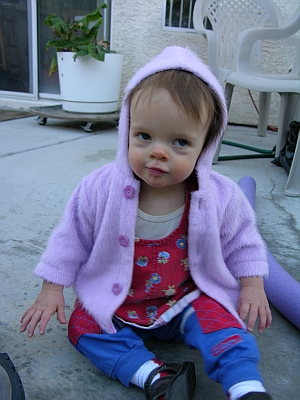 "But okay, fine, I'll play model. How do you like this adventure pose?"




"Here's what I think of your fashionista silliness, Mummy!"





Playing in the backyard with the pool noodle:





Watching cars by the front gate:





Someone has cutie-wootie pink jam-jams!




Every day we get to see the "sparklies" coming off of her crystal-like IKEA mobile:





More fashionista goodness (this is why I'm going to have to pay for therapy bills later, right ;D):





Flowers are fun to play with/destroy...note the petals all over the grass once Peo was done!





Peo likes to point out Daddy in her photo album:




And then she likes to wrestle the album:





She loves to sit for long stretches of time playing with her Lego. She can put together the Baby Lego very easily now, and some of the Quatro pieces as well. The hard part is that Baby Lego doesn't attach to Quatro without Duplo in between, and we only have a few adapters and Duplo pieces. She tries to balance or mash them together anyway, so we're thinking she'll get a Duplo tub for Christmas to assist her construction:





All bundled up for outside, including a hat I made her (I'm now working on a better-fitting version):




"Mummy, you've dressed me in more layers than I can shake a stick at!" (Her "stick" is actually an old bit of rubber tube from the irrigation system...I let her play with it using the "no mouth" rule because it's otherwise fairly harmless in that it's flexible.)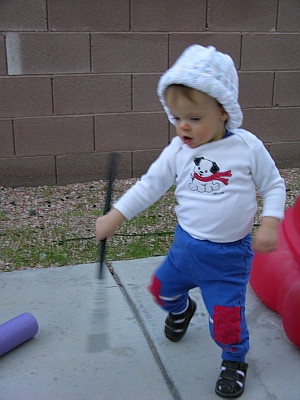 A great bit of fun lately is to clear out one of the toy bins and bend herself so she can see through it. Then she'll say an excited, "Hi! Hi!" to anyone she can see, including puppets on TV.





More splendiferous pink-and-red fashionista goodness:





More car-watching (this is currently her favourite outside activity, even better than the sandbox, the park, walking in or out of the stroller, etc.). She also loves to bang the metal gate because it makes cool noises and vibrates.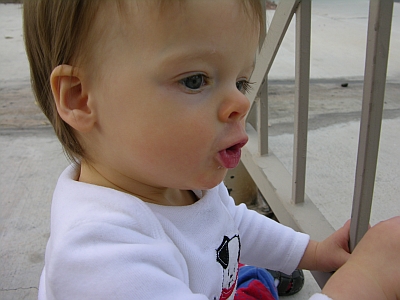 Wayyyyy back in August,
indomitability told me about this Make A Frank Contest. I knew I'd never get anything done and posted fast enough to win, but I likes me a knittin' challenge! So I made a Frank, and it only took for-bloody-ever to get it finished and assembled. After I make this post, I'll be putting pictures up in my knitting gallery on my website, plus one day I'll get around to posting the pattern. Here are some photos of Peo playing with/wrestling Frank: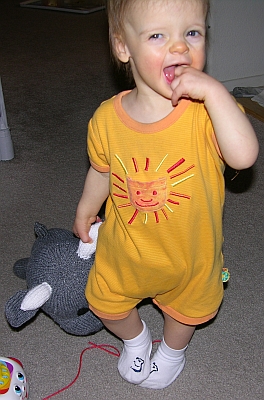 Here's the Queen of Lounging, hanging out with Happy and the TV remote: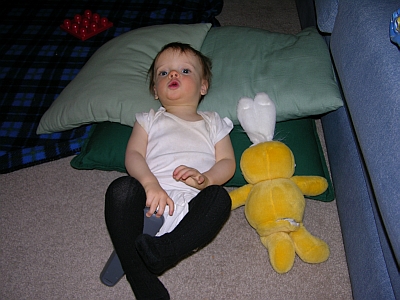 Peo's ongoing hobby of hugging everything (and usually getting me to do the same...I had to hug half of the rocks from the front garden last week) is still super-cute:





Watch out! Baby armed with a lance (she has an amazing ability to weaponize anything):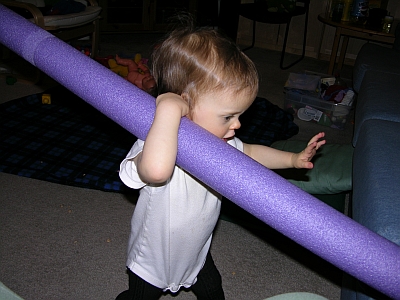 When we rub noses, I call it "nose nose" and Peo loves it. She loves it even more if I'll do "nose nose" with her toys, or she'll call Corran over to do it as well. Here she is making her toys do "nose nose" with each other...the second picture is sort of hard to see, but that's the little Worf doll doing "nose nose" with the baby doll (you can see photos of the Worf doll here). I thought I was going to die from the cuteness/wrongness: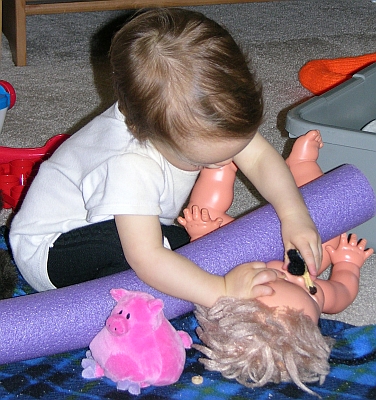 As previously mentioned, Peo has to have certain toys with her during boobie time. It was just Duck and Cow (two of the pins from the baby bowling set she got from Matt), but once she was given Puppy and Kitty, they became required as well. It's hard to balance them all, and she frequently drops them, which leads to mega-angst. This is why the remaining two pins are still in the bag...I'm not sure when she's getting them, but it's not going to be until I'm sure they won't end up added to the boobie zoo!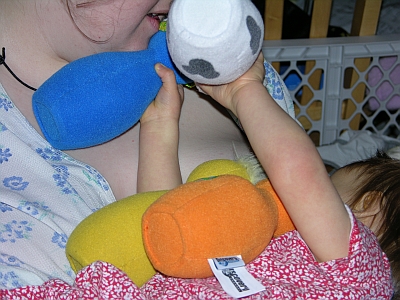 Pretty girl eating her Cheerios (or "roh-rohs" as she calls them):




And enjoying more of them with Kitty and Puppy:




She was getting too good at getting over/around the barrier to my yarn stash under the desk, so I had to clean it all up, which also meant cleaning up the desk enough that little hands couldn't reach over the edge and grab nifty things (like stabby knitting needles or strangly yarn). Corran kept her in another room while I cleaned, and then we let her go free. She went under the desk immediately (OMG FREEDOM!). She then proceeded to mash her fingers in the desk drawer (there's no good way to put a child lock on it because of the lip of the desk), so that had to come out, meaning I had to find more hiding places for the good stuff that was in it. Now she treats the drawer/CPU shelf as her personal little hidey-hole.




We really need to get to an IKEA so we can put in a Billy shelf instead, with doors on the lower half with child locks so I can keep my extra supplies down there, then use the first open shelf for my water and other immediate supplies, and then rig up a yarn-feeding system above that. I'm thinking of putting some kind of plastic fencing across so yarn balls are held in but can feed out through the holes. I'll get to that in all of my copious free time...gahhhhh...



Anyway, here she is with me, giving each other funny looks (her golden skin tone is partly from Corran but mostly because of the insane amount of sweet potatoes, carrots, and squash she eats):





OH TEH DRAMA QUEEN!






She found my favourite hat and started wearing it. The cuteness was overwhelming.

WARNING WARNING WARNING...the following photos are so cute that they may cause permanent squish-damage to your brain. Scroll down at your own risk!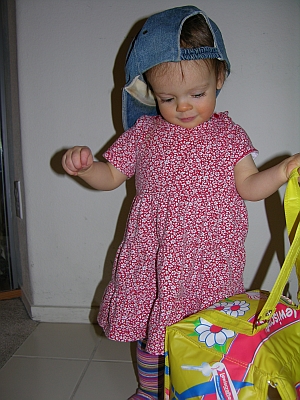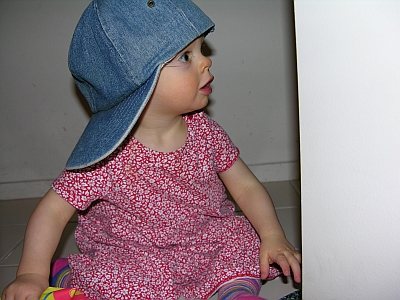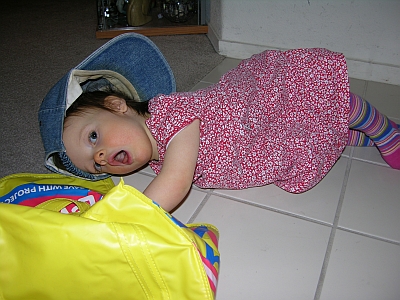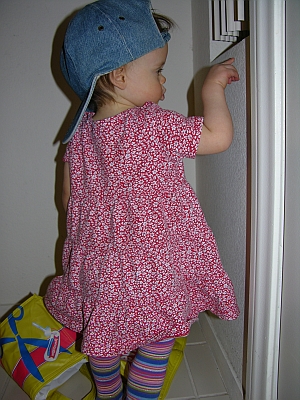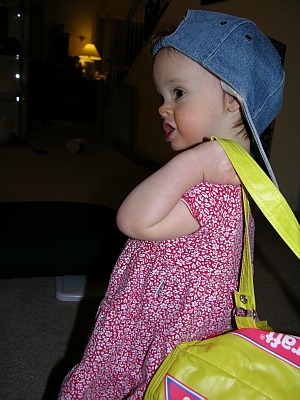 For those who survived the cuteness, there'll be more another day...